DC Kargil meets PRI members at Padum, interacts with people's delegations at Zangla, adjoining villages, convenes officers' meeting to take stock of status of developmental works, stock& supply position of essential commodities Listens to people's grievances, assures resolution of genuine concerns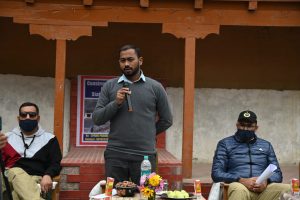 KARGIL, AUGUST 31, 2021: In order to take first hand appraisal of the problems, demands and grievances of the people of Zanskar, Deputy Commissioner and CEO, LAHDC, Kargil Santosh Sukhadeve met PRI members at Dak Bungalow Padum here today.
The Deputy Commissioner was accompanied by the Senior Superintendent of Police Kargil Anayat Ali Choudhary, Additional SP Iftikhar Talib Choudhary, Assistant Commissioner Development Ghulam Muhammad, Sub Divisional Magistrate Zanskar Sonam Dorjay, Chief Medical Officer Dr Munawar Hussain Wazir, Chief Education Officer Nazir Ahmad Wani, Chief Agriculture Officer Kacho Muhammad Ali Khan, Deputy Registrar Cooperatives Dr Zakir Hussain, Executive Engineer PDD Altaf Hussain, Executive Engineer EPD Feroz Kakpori, Executive Engineer PWD Division Zanskar Muhammad Abbas, District Youth Services and Sports Officer Muhammad Hussain Rehnuma besides other concerned district and sub divisional officers.
Public representatives including BDC Chairpersons, Sarpanchs, Panchs and Nambardars of Padum, Ufti Pipiting, Salapi, Stongday, Phay, Rukruk, Lungnaq, Ralakung and other villages present in the meeting apprised the Deputy Commissioner about the problems and issues being faced by them which mainly included the augmentation of water and power supply, issuance of ration cards to new families, opening up of additional Aadhar centres, construction of school buildings in passive solar mode, setting up of handloom and handicraft centres at village level, holding of awareness programmes on flagship schemes, settlement of land compensation cases, participation of officers in gram sabhas, rationalization of teacher–student ratio in schools, setting up of waste segregation and management plants, provision of financial assistance to cattle rearers (doksapas) and other related demands.
Addressing the people, the Deputy Commissioner said that the Administration is fully committed to address the problems and issues being faced by the people especially those residing in rural and far-off areas. He gave a patient hearing to all grievances and concerns raised by the PRI members, and assured them that all their genuine demands and issues would be redressed in a phased manner.
DC Santosh Sukhadeve said that the Administration is fully committed to mitigate the problems of the people, and the meeting has been organized with a view to helping them so that their grievances are mitigated in the shortest possible time.
Meanwhile, the Deputy Commissioner underlined the need to establish a mechanism of effective and efficient coordination between the administration and the people so that the benefits of developmental works and government schemes reach the common masses in a smooth and hassle free manner.
Later, the Deputy Commissioner visited various villages including Lower Kumik, Pishoo, Zangla, Karsha Gonpa, Karsha and adjoining villages where he met a number of public delegations to know about their issues and developmental needs.
People of these villages projected their demands to the Deputy Commissioner which mainly included inclusion of Lower Kumik as model village, repair of irrigation canals, mobile connectivity, lift irrigation system, motorable bridge, settlement of land compensation cases, expediting works for establishment of LT line for multiutility centre near Karsha Gompa, nallah training works at Karsha Nallah and other related demands.
Responding to the public demands, DC Santosh Sukhadeve assured that all requisite measures will be taken to ensure that genuine concerns of the people are addressed in a phased manner. He said that to address the issues of drinking water, functional household tap connections are being provided to every rural household under the Jal Jeevan Mission (JJM) through which clean and safe water is being given to all rural families with the facility of field testing kits to check the water quality.
As regards to power supply, the Deputy Commissioner said that power grid connectivity to Zanskar Sub Division has already been sanctioned and the area will get 24×7 power supply once it gets connected with the grid within the next 3 to 4 years. He further said that to address the problem of mobile connectivity, 32 mobile towers have been sanctioned under Universal Service Obligation Fund (USOF) while 40 more towers have also been proposed for next year which will address the mobile connectivity issues in the un-connected villages to a great extent.
Meanwhile, DC Santosh Sukhadeve also convened a meeting of the district and sub divisional officers to take stock of the pace of progress on developmental works under different sectors in the sub division besides to take brief about the status of the supply and stock position of essential commodities.
The Deputy Commissioner took sector wise brief from the officers on the issues related to water supply schemes, power supply, Anganwari centres, schools, roads, health centres, livestock, health care, ration supply and gave them on spot instructions for taking necessary measures for early grievance redressal. He took brief from the concerned officers about the stock supply position of essential commodities including ration, medicines, seeds and other essential items and stressed on them to be responsive to the needs and issues of the local people and to ensure that these are resolved in a time bound manner.
DC Santosh Sukhadeve said that there is no dearth of funds and works should be executed in a timely manner so that targets are achieved in full. He also asked the officers to conduct regular field visits to see the status of the implementation of various developmental activities and get people's feedback.