Day-6 of Science festival in Leh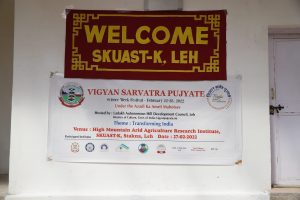 Leh, 27 Feb: The sixth day of the Science festival themed 'Transforming India' was celebrated at High Mountain Arid Agriculture Research Institute (HMAARI), Sher-e-Kashmir University of Agricultural Sciences & Technology (SKUAST) and Eliezer Joldan Memorial College, Leh today. The students, staff and officials from various institutions participated in the event.
Scientist, ISRO Bangalore, Founder Director, Ladakh Science Foundation, Tsering Tashi gave an online lecture at EJM college Leh on India's Megaprojects -Transforming India. He explained about the mega projects in India and their role in transforming India.
Two keynote speakers briefed about agriculture and research at HMAARI, SKUAST Leh.
Associate Director, HMAARI, SKUAST Leh, Prof. Dorjay Namgyal spoke about SKUAST Ladakh and technologies developed. He explained about the research on traditional crops grown in Ladakh and their health and commercial benefits. Further, he talked about research developments in agriculture and value addition in food products. Also, he invited the students to visit the Institute for more learning.
Dr Anwar Hussain spoke on food technology and advised the participants to participate in Agri-entrepreneurship and Agritourism for boosting the economy. Further, he explained about adding values to the primary food products.
Dr Sonam Spaldon, Dr Diskit Dolkar, Dr Kunzes Angmo and Technical Officer, Agro-Meteorological Field Unit (AMFU), Kaneez Fatima gave a detailed presentation on technologies in vegetable production, fruit production, the flora of Ladakh and different agrometeorological instruments during the exposure field visit to the various experimental sites of HMAARI, SKUAST Leh.
The Ministry of Culture & the Office of the Principal Scientific Advisor (PSA), GoI, under the aegis of Azadi ka Amrit Mahotsav is celebrating the week as the glorious week dedicated to science and technology – Vigyan Sarvatre Pujyate (science is revered all over).