Day-3 of Science festival in Leh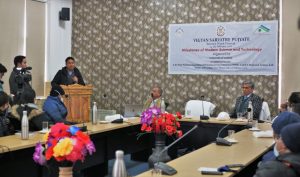 Leh, 24 Feb: The third day of Science festival themed 'milestone of modern science and technology' was held at University of Ladakh (UOL), Leh campus, DIHAR Leh, District Institute of Education and Training (DIET) Leh and Boys Higher Secondary School, Leh. Students and staffs from various Institutions participated in the science festival.
The Deputy Chairman, LAHDC Leh, Tsering Angchuk presided the science festival held at the University. He lauded the efforts of the organizing committee and the participants for the smooth conduct of the event. He expressed his gratitude to Vice-Chancellor, Dr. SK Mehta for being the guiding light of the science festival. He also appreciated the speakers for making the event a real learning experience for the participants and hoped for active participation in the coming days of science festival.
Congratulating all for the successful conduct of the event, Vice-Chancellor Dr. SK Mehta, expressed hope that the science festival would motivate the participants for active involvement in science and technology and broadening the horizon of their mind.
Key lectures were given by eminent scientists on Environment and Ecology in context to Ladakh. Head of G.B Pant National Institute of Himalayan Environment, Leh, Dr Subrat Sharma gave a detailed presentation on Climate change and Evolution of Himalayas. He highlighted the importance of Ladakh through various scientific discoveries. He further talked on the factors of climate change and its influence on the Himalayas and Ladakh. Dr. Riyaz MK Khan from the Department of Geology, University of Ladakh also gave a detailed presentation on Evolution of Himalayas. He spoke on geological surveys and evolving nature of Himalayas.
Similarly, a painting competition on the theme 'Advancement of Science in India' and a short video making competition were held at DIET Leh. Likewise, an online essay competition on the theme of 'Use of Science and Technology in Sustainable Development of Ladakh' was held at Boys Higher Secondary School Leh.
The Indian Air Force Officials participated in the day 3 of the Science festival held at DIHAR-DRDO. A detailed lecture on the development of agriculture in Ladakh through scientific technologies was given by the Technical Officer, DIHAR Leh, Tsewang Tamchos. Whereas, a power point presentation about science of avalanches and prevention of hazardous effect was given by Technical Officer, DGRE-DRDO, Rajendra Kashyap. The participants were later given an exposure tour of DIHAR's experimental field.
The Ministry of Culture & the Office of the Principal Scientific Advisor (PSA), GoI, under the aegis of Azadi ka Amrit Mahotsav is celebrating the week as the glorious week dedicated to science and technology – Vigyan Sarvatre Pujyate (science is revered all over).