Culture Academy jointly celebrates International Women's Day with religious organizations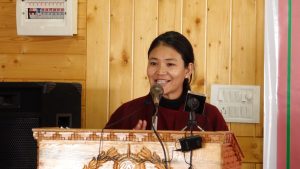 Leh, March 08: Academy of Arts Culture and Languages, Leh celebrated International Women's Day themed 'Gender Equality Today for a Sustainable tomorrow ' in Leh. The International Women's Day was jointly organized with Women's Wing of Ladakh Buddhist Association, Anjuman Immamia, Anjuman Moin-Ul Islam, Christian Community and Women Alliance of Leh district under the theme 'Role of Women in Preserving Ladakhi Culture'.
Deputy Superintendent of Police, IT Cell, PHQ, Nilza Angmo was the chief guest during the occasion. Deputy Secretary, Culture Academy, Leh, Tsewang Paljor; Editor, Culture Academy, Leh, Dr Thupstan Norboo; representatives from religious organizations of Leh district and other concerned members were present during the celebration.
Nilza Angmo congratulated the organising team for successfully organising the International Women's Day. She emphasised on women empowerment, equality and unity to prevent any form of discriminatory practices against women. Further, she stressed on identifying various issues of women in the field of Health care, education, sports and various other fields and unitedly resolving such issues from the grassroots level. She further emphasised the active participation of women in politics.
Deputy Secretary, Culture Academy, Leh, Tsewang Paljor expressed his gratitude to all women of Ladakh for their role in preserving the rich culture of Ladakh. He emphasised educating the younger generation about the rich culture of Ladakh along with the modern education.
President, LBA Women Wing, Advocate Thinles Angmo spoke on the significance of celebrating International Women's Day. She informed about various laws formed for the welfare of women. Similarly, the representatives of the women's wing of the different religious organisations also share their views on women empowerment in Ladakh.
On the occasion, the women's ice hockey team of Ladakh were felicitated for winning the 9th National Ice Hockey Championship held in Kaza, Himachal Pradesh. Thinles Chorol, the first Ladakhi woman entrepreneur in the field of travel and tourism was also felicitated as well.