Councilor Shargole flags off progressive farmers for exposure visit to Leh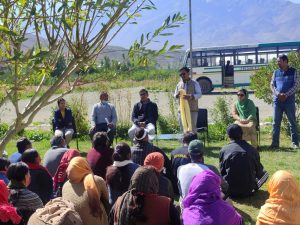 KARGIL, SEPTEMBER 16, 2021: Former Executive Councilor and Councilor Shargole Muhammad Ali Chadan flagged off group of progressive farmers for exposure tour to Leh here today.
Chairperson Block Development Council (BDC) Shargole Tsering Nurboo, Dr Faizaan Ahmad Senior Scientist MAR&ES Kargil SKUAST-K besides other concerned officers were present on the occasion.
he exposure tour has been organized by the Mountain Agriculture Research and Extension Station (MAR&SE) Sher-e-Kashmir University of Agriculture Science and Technology (SKUAST) Kargil for the farmers of Shargole Block.
40 progressive farmers from 4 Sarpanch Halqas were selected under the Tribal Sub Plan (TSP) project entitled 'Technology Interventions for Improving Food, Income, Security and Livelihood of Kargil Farmers under TSP' for the said exposure visit.
The farmers are expected to visit HMAARI, DIHAR, SECMOL, CAZRI and other locations where protected farming is being demonstrated to showcase the latest know how and techniques of protected farming.
Councilor Shargole Muhammad Ali Chandan praised the efforts of the scientists of MAR&ES SKUAST-K for such endeavours and expressed optimism that the farmers will take full benefit from the exposure tour.
While addressing the farmers Dr Faizaan Ahmad Senior Scientist MAR&ES Kargil SKUAST-K briefed them about the importance of protected farming in the region and how it can prove a boon for the upliftment of the standard of living by improving the economic status of farmers.
Junior Scientist Najimaana Wani, Dr Diskit Dolker and Dr Rinchan Dolker besides the farmers were present during the event.