Councillor Yourbaltak, BDC Chairperson Sodh visit micro-irrigation sites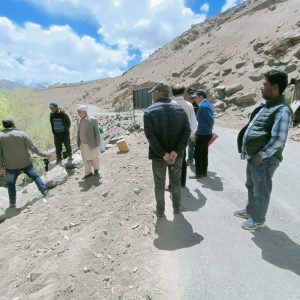 KARGIL, MAY 06, 2022: Councillor Yourbaltak Kacho Ahmad Ali Khan, BDC Chairperson Sodh Zakir Hussain along with AEE PHE and other concerned officials today visited Drip/Micro Irrigation Sites at Panchayat Halqa Barchey, Apati and Yourbaltak.
During the visit, Councillor and BDC Chairperson were satisfied with the progress of the work. Residents of the area demanded fencing for the project sites, which are not included in the DPR.
The Councillor and BDC Chairperson assured the residents that the matter will be taken up with the CEC Kargil and District Administration Kargil for provision of funds for the fencing work at the project sites.