Cooperative Dept airlifts 10 MT vegetables, sells it in Choglamsar & Leh town areas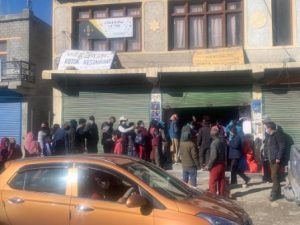 Leh, April 24: The Cooperative Department, on the direction of the UT and District Administration and LAHDC Leh, airlifted ten metric tonnes of vegetables through its various Cooperative Society outlets to provide consumer Items and other essential commodities at a nominal rate and made it available for the public in Choglamsar and three locations in Leh town.
3-4 different types of vegetables were packed, with each pack weighing 4 kg. The pack was sold for Rs 150.
The Cooperative Department had procured 6 MT of Amul Taaza milk and two quintals of dates and made it available for the public through the cooperative retails outlets in Leh and other sub-divisions.
The Department has procured 28 MT milk, four quintals of dates and eight MT vegetables post-April 14.
The Cooperative Department has sufficient stock of consumer items, including refined oil, pulses, butter and tomato puree.