Commissioner Secy reviews the work under the Irrigation and Flood Control Sector of Ladakh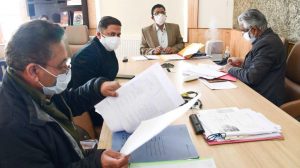 Leh, May, 25: Commissioner Secretary, Public Health Engineering/Irrigation & Flood Control, Ajeet Kumar Sahu today reviewed the progress of the works under the Irrigation and Flood Control Department in the UT Ladakh. Commissioner Secretary also reviewed the Central Sector Schemes of AIBP and FMP.
After the direction from the Hon'ble LG, RK Mathur, the Irrigation & Flood Control Department is implementing a scheme to provide solar-based irrigation pumps to provide irrigation facility in identified drought-prone areas. Chief Engineer, IFC Ladakh informed that both the districts have started the process of procurement of pumps and these would be installed in identified areas in the next four months. This scheme is based on a successful pilot done by Ladakh Administration last year.
Besides, the department is also doing a pilot on mobile pumps to lift the river water for irrigation purposes which would be the first of its kind and provide immediate irrigation facility without the need of creating much civil infrastructure. Commissioner Secretary asked the Chief Engineer to ensure the scheme is implemented on time.
Another major project concerning the irrigation sector which was reviewed was the Rs. 53.32 cr Parkachik project in Kargil with a command area of 2262 hectares. It has a tunnel of around 900 meters out of which work is completed for around 550 meters. The work on both sides of the tunnel has started and expected to be completed by September 2021.
Commissioner Secretary asked the concerned engineers to ensure completion of allied and remaining works so that the scheme is made operational on time.
Sahu also directed the Engineers to send the budget proposals /UCs under AIBP/FMP for the year 2021-22 without any further delay and also to prepare additional project proposals for funding under AIBP so that the maximum area can be brought under Irrigation. He directed the officials of both the districts to hire a consultant to prepare the Detailed Project Report (DPR) as per the AIBP guidelines. Also, directed the engineers to submit the proposal for the storage project. It was informed that a tender has already been floated to hire experts to prepare DPRs for new projects.
Commissioner Secretary directed the Chief Engineer to also ensure that all the schemes are audited in time by the AG auditors and their observations are replied to expeditiously.
He directed the Chief Engineers and SEs to personally monitor the execution of works and regularly follow up on the pending issues so that physical and financial targets are achieved on time.
The meeting was attended by Er Fareed Chaudhary, Chief Engineer, PHE/I&FC Department; Superintending Engineer, Kargil; Executive Engineer, I&FC Leh and Executive Engineer, I&FC, Kargil besides other departmental officers.