Commissioner/Secretary chairs meeting to discuss implementation of IoT in UT Ladakh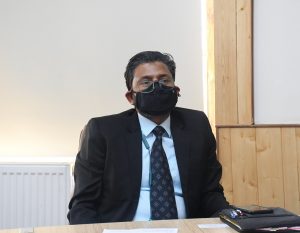 Leh, April 29: A meeting was held under the Chairmanship of the Commissioner/ Secretary, Public Health Engineering Department, Ajeet Kumar Sahu to discuss the implementation of the Internet of Things (IoT) based water quality, quantity, and service delivery monitoring system in the Union Territory of Ladakh under the National Jal Jeevan Mission programme.
During the meeting, Senior Principal Scientist, CSIR-CSIO Chandigarh, Dr. Babankumar. S. Bansod gave the Commissioner/ Secretary a detailed presentation on the IoT piloting implementation in various states in India. He apprised the Commissioner/ Secretary that the IoT based water monitoring system will help the authorities to take care of the operation, and maintenance aspects and will ensure that the 55 litres per capita per day, which is the benchmark parameter for water quantity is delivered to the end-user as per JJM Norms. Operation and maintenance costs will also be reduced, he added.
Dr. Babankumar shared that this will instill the necessary behaviour change in all the users, bring complete transparency and put an end to the non-revenue water losses. In India, more than 30 per cent of non-revenue water losses exist.
Ladakh being a different and cold terrain, water-related issues existing in the region, especially during the winter season were discussed in detail.
The Ministry of Jal Shakti and CSIR India along with the National Jal Jeevan Mission is tasked to implement an IoT water monitoring system in different states in India for monitoring the various benchmark parameters.
The meeting was attended by the Chief Engineer, PHE/I&FC Department; District Superintending Engineer, Leh/Kargil; Executive Engineer, PHE Department, Leh/Kargil; Executive Engineer, PWD Sub-Division, Zanskar, and JJM, PMU, Ladakh, Parikh Shukla.