Commissioner Finance discusses service level agreement for implementation of DILRMP in Ladakh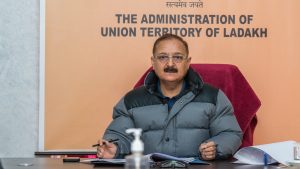 Leh, Nov 24: Financial Commissioner, UT Ladakh Dr. Pawan Kotwal chaired a meeting with the board members of Ladakh Land Records Modernization Agency (LLaRMA) to discuss the service level agreement for the project – Digital India Land Records Modernization Program (DILRMP) – in Ladakh.
Dr. Kotwal stated that although DILRMP is a demand-driven scheme of the GoI, digitization of land records is of utmost importance so as to link the data to the registration system which will assist in providing citizen-centric services such as easy access to documents, online extraction of revenue records, facility of being digitally signed by the competent authority, valid for entering mutations with the final information reflected in the revenue records, etc, thus ensuring a continuously updated data system.
The meeting also held discussions about adopting a Continuously Operating Reference Station (CORS) network for the survey of land parcels. It was informed that nine CORS network stations have been made functional while two more are coming up.
Commissioner Kotwal, while discussing the service rates provided by the bidders, put before the governing board to review the proposal and further recommend it so that the digitization program can be initiated.
Secretary Law, Fayaz Ahmed Sheikh, Dy. Secretary Rigzin Spalgon, ACR Leh Shabbir Hussain, and TD/DIO NIC Leh Phuntsog Paldan attended the meeting. Principal Secretary Sanjeev Khirwar, DC Kargil Santosh Sukhadev Director Finance DC Rajath Kumar, and DD Gupta Technical Director NIC JK virtually joined the meeting.