Chief Labour Commissioner Negi reviews implementation of labour laws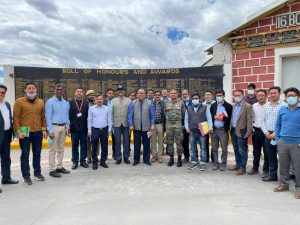 Leh, July 21: The Chief Labour Commissioner (Central), DPS Negi, who is on an official visit to Ladakh, convened a meeting to review the implementation of labour laws in the Conference Hall of 16 BRTF at Spituk. Regional Labour Commissioner (C), In-charge UT Ladakh, Vishal Khare, accompanied DPS Negi.
Chief Labour Commissioner (CLC) Negi impressed upon the concerned officials to focus on the strict implementation of the labour laws for the welfare of the labourers working at various work sites in UT Ladakh. He also highlighted the various initiatives and schemes introduced by the Labour Ministry, GoI, for the welfare of labourer across the country.
CLC Negi directed the Assistant Labour Commissioner, Leh, to streamline the labour registration process and organise awareness camps to enable the maximum number of labourers to avail the benefits of the schemes.
CLC Negi lauded the efforts made by the BRO for the welfare of the labourers engaged by them in the region. He also gave a patient hearing to the grievances put forward by the participants of the meeting.
Assistant Labour Commissioner, Leh; Labour Officer, Leh and the principal employers viz Border Road Organisation (BRO), National Hydroelectric Power Corporation (NHPC), National Highways and Infrastructure Development Corporation Limited (NHIDCL), Airport Authority of India (AAI), Bharat Petroleum Corporation Limited (BPCL), Hindustan Petroleum Corporation Limited (HPCL), Indian Oil Corporation Limited (IOCL) and Power Grid Corporation India Limited (PGCIL) also attended the meeting.