Chief Engineers of Project VIjayak & Himank call on CEC Leh`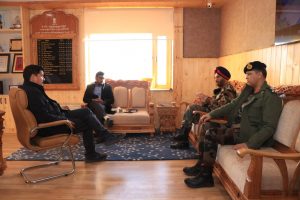 Leh, Feb 17: The Chairman/CEC, LAHDC Leh, Adv. Tashi Gyalson was called upon today by the Chief Engineers of Project Vijayak, Brig. Ashish Gambhir and Project Himank, Brig. Arvinder Singh of the Border Roads Organisation (BRO). DC/CEO LAHDC Leh, Shrikant Suse was also present during the meeting.
The officials deliberated on the status of various projects in Leh district under the Project Vijayak and Himank of the BRO which includes strategic road constructions of Nimo-Padum-Darcha (NPD), road construction projects in the trans-Singela region as well as other parts of the district and discussed about appointment of new dedicated teams of BRO for the regions of Nubra and Changthang Areas. Also discussed convergence of MNREGA job card holders into BRO's labour works.