Chief Electoral Officer, Ladakh inspects preparedness for upcoming LAHDC election in Kargil.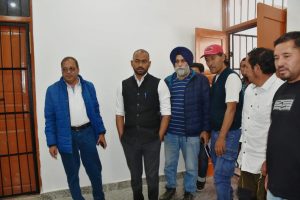 Kargil, June 30, 2023: Chief Electoral Officer (CEO), Ladakh, Yatinder Maralkar along with Deputy Commissioner/CEO, LAHDC, Kargil, Santosh Sukhadeve today held a meeting to review infrastructure available and preparedness of district administration for the upcoming LAHDC election in Kargil.
Deputy Secretary Swarn Sing, Election Naib Tehsildar, Kargil, Zakir Husssain and other concerned officers and officials of the district were present in the meeting.
During the meeting, detailed discussions were held regarding upcoming elections in Kargil and infrastructure required for the smooth conduct of the election was also discussed.
The CEO inspected the section-wise arrangements and required material in election chamber of DC Office Complex, Baroo. He also inspected the infrastructure available in the warehouse and other spaces to ensure hassle-free, smooth and transparent election in the Kargil.
In the meeting on election preparedness with the concerned officers, all key thematic issues covering Electoral Roll Health, Polling Stations, assurance of minimum facilities at Polling Stations, manpower management, transportation, law and order, security, etc. were discussed in detail and feedback was taken from the concerned officials.
CEO Maralkar asked the concerned officials about issues that need to be taken up with the Election Commission of India (ECI) for immediate action. He also assured every possible support for conducting the LAHDC elections smoothly.
The CEO along with DC Kargil visited Warehouse Kurbathang and inspected the arrangements in the building. He appreciated the construction of the warehouse that will help to conduct election in a well-ordered manner.
He asked the officers about the capacity of the warehouse to hold the required infrastructure like IT Cell, seating arrangements, washrooms, etc. which are to be used during the election.