Chairperson BDC Shakar Chiktan chairs special executive body meeting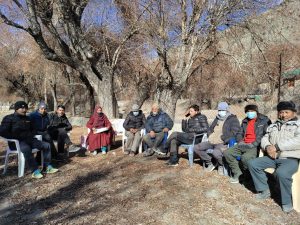 KARGIL, DECEMBER 29, 2021: Chairperson Block Development Council (BDC) Shakar Chiktan, Sayeeda Banoo today chaired a special executive body meeting at Chiktan Shagaran to conduct of first BDC Cup 2022 (Inter-Panchayat Sub Junior Ice Hockey Tournament) in the sub division.
The meeting which was attended by all Sarpanchs was held to enhance the standard of ice hockey and attract tourists in the Shakar Chiktan sub division.
The meeting decided to conduct the first BDC Cup at Samrah in Shakar Chiktan sub division in January 2022, subject to grant of permission by the District Disaster Management Authority (DDMA).
It was also decided in the meeting that the tournament will be the rolling trophy on rotational basis at every Panchayat Halqa of Shakar Chiktan every year.
The executive body meeting also decided to purchase standard-size rink boards and ice hockey equipment for Panchayat teams.