Chairman LAHDC Leh met Tibetan Sikyong in Leh today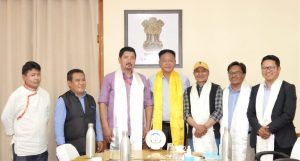 Leh, Aug 23: The Chairman/Chief Executive Councillor, LAHDC Leh, Advocate Tashi Gyalson met the newly elected Sikyong (President) of the Central Tibetan Administration, Penpa Tsering at the Council Secretariat, Leh today.
CEC Tashi Gyalson welcomed Sikyong Penpa Tsering and his team of officials with traditional khataks at his office and congratulated Penpa Tsering for taking charge as the Sikyong (President) of the 16th Kashag of Central Tibetan Administration. Both the officials had detailed deliberations and discussed various concerns of the development of Tibetans residing in Leh Ladakh.
Sikyong Penpa Tsering extended his gratitude to Chairman LAHDC Leh and his team of Executive Councillors for their constant support towards the welfare of Tibetans living in Leh Ladakh. He also raised a few concerns and grievances of the Tibetans residing in Leh Ladakh to the Chairman LAHDC Leh.
Speaking on the occasion, CEC Tashi Gyalson informed the meeting of the various initiatives being taken by the LAHDC Leh for the development of Tibetans residing in Leh Ladakh. He ensured his commitment to work for the collective development of Tibetans and the people of Leh Ladakh. He stated that the LAHDC Leh, District Administration, Leh and the UT Administration will explore and work on strengthening the Tibetan Rehabilitation Policy, 2014 to provide a uniform guideline demarcating the facilities to be extended to the Tibetan refugees living in the Union Territory of Ladakh.
Executive Councillor for RDD, Tashi Namgyal Yakzee; Executive Councillor for Minority Affairs, Ghulam Mehdi Ashoor; Executive Councillor for Agriculture, Stanzin Chosphel; CRO Ladakh, Tsetan Wangchuk, President LTA, Dhondup Tsering; Director TCV, Chemi Lhundup, Secretary TR Cooperative Society, Sangpo; Incharge Health TR, Tenzin Dolker and the officials of LAHDC Leh and CTA attended the meeting today.