Chairman LAHDC Kargil meets Advisor Ladakh to discuss various issues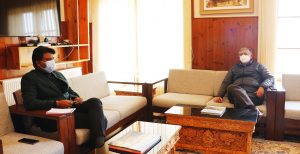 Leh, April 29: The Chief Executive Councillor, LAHDC Kargil, Feroz Ahmed Khan, today met Advisor Ladakh, Umang Narula, to discuss various issues related to the development of the Kargil district.
CEC Feroz welcomed the provision of the ₹ 25 crore subsidy under the district budget. He stated that this would enable LAHDC Kargil to support small and marginal farmers to purchase seeds, fertilisers and farm tools. He further shared that the amount would be used for meaningful interventions in agriculture, horticulture, animal husbandry and fisheries sectors.
CEC Feroz also discussed other issues, including obtaining no-objection certificates (NOCs) from the Fire Service Department, Traffic Police and other authorities to renew the recognition of private schools. He requested the Advisor to streamline the issuance of these NOCs to private schools.
He also discussed the pending payment of land and tree compensation cases of projects undertaken before the reorganisation of the erstwhile state of J&K.
CEC Feroz also discussed the availability of sand, stone and other essential materials for developmental works. He also requested Advisor Narula for the issuance of short-term mining permits.