Chairman DDMA Leh visits Nubra to review arrangements for Covid-19 patients Also visits areas of three villages brought under containment, applauds medical staff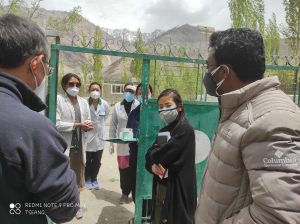 Leh, May 19: In the wake of the surge in Covid-19 cases in Nubra sub-division, Deputy Commissioner/Chairman, District Disaster Management Authority (DDMA), Leh, Shrikant Suse, today visited Sub-Division Hospital (SDH) at Diskit and villages brought under containment to take stock of the arrangements and preparedness for Covid-19.
During his visit to SDH Diskit to review Covid-19 management, Chairman DDMA Leh directed the Executive Engineer of PWD to expedite the construction work of the oxygen plant at the hospital. He impressed upon SDM Diskit to arrange transportation for people from remote areas for Covid-19 vaccination at Diskit. He also directed SDM Diskit to earmark an alternate Covid Care Centre for emergencies.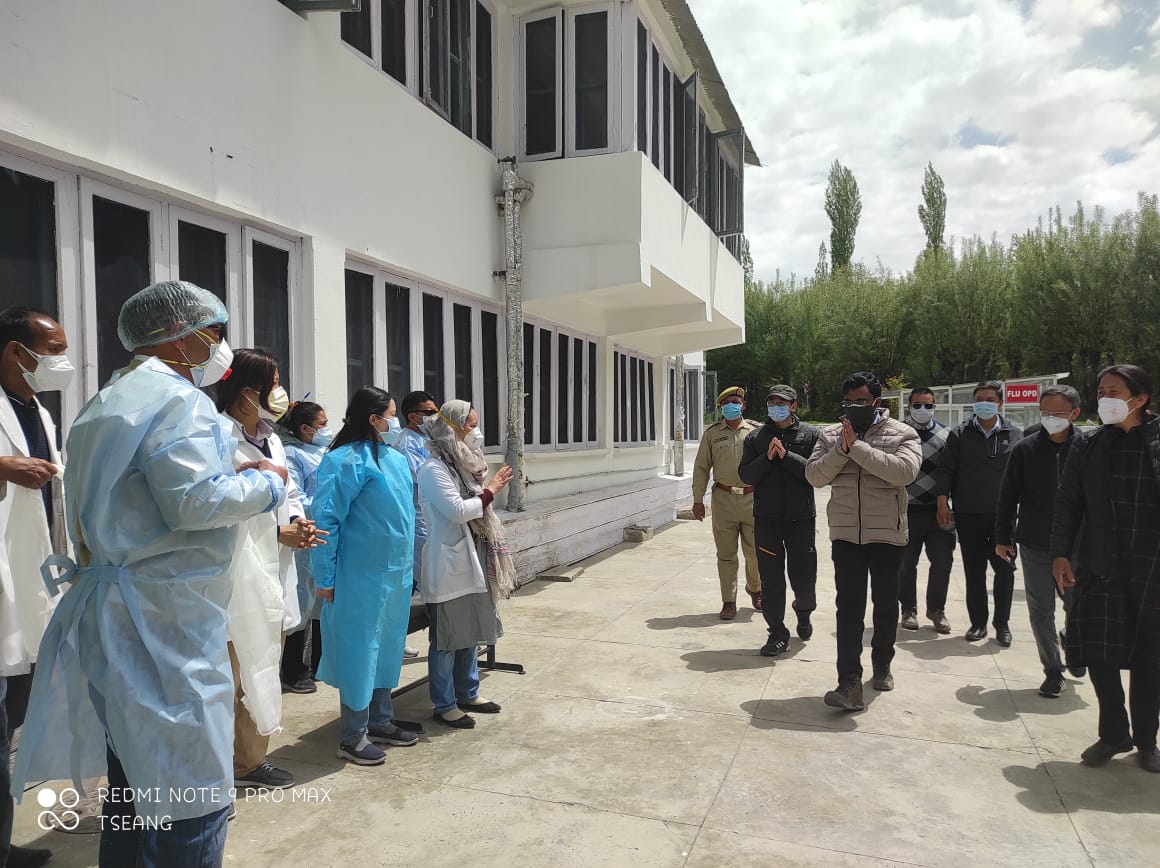 SDM Diskit requested DC Leh to provide bed sheets, blankets and mattresses for patients at the Covid Care Centre and an additional borewell at the Covid Care Centre.
Chairman DDMA Leh Shrikant Suse visited the areas brought under containment in Lakjung, Sumoor and Kyagar villages owing to an increase in Covid-19 positive cases in these villages. He also took stock of arrangements at Sub-Centre in Sumoor. During his inspection at Lakjung village, DC Leh instructed village representatives to restrict the movement of the public and deliver essential commodities at doorsteps.
BDC Panamik requested DC Leh to direct the distributor of HP LPG cylinders to deliver the cylinders at their doorsteps in Panamik village due to the Covid-19 pandemic. He also shared that people are not cooperating during sample collections to detect Covid-19 cases.
Chairman DDMA Leh distributed Covid care kits that include a pulse oximeter, hand gloves and sanitisers to Sub-Centres at Lakjung, Sumoor and Kyagar.
He also met medical staff and applauded them for their hard work and dedication.
In-charge Covid Command Centre, Namgial Angmo; Chief Medical Officer (CMO), Dr Motup Dorje; Block Medical Officer (BMO), Dr Disket Dolma; Sub-Divisional Magistrate (SDM), Diskit; Executive Engineer, Mechanical Department; Executive Engineer, PWD and Station House Officer (SHO), Diskit, accompanied DDMA Chairman Leh during the visit.