Chairman DDMA Leh reviews recent surge in Covid-19 cases, directs officials to strictly enforce Covid guidelines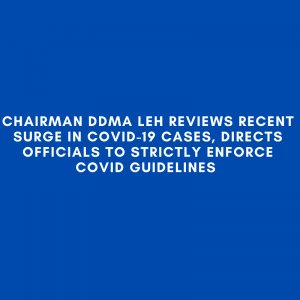 Leh, Nov 15: Deputy Commissioner/Chairman, District Disaster Management Authority (DDMA), Leh, Shrikant Suse, today convened a meeting to review the recent surge in Covid-19 cases in Leh district.
Chairman DDMA Leh directed all magistrates to coordinate with police and the medical staff for contact tracing, treatment, testing, effective quarantine and isolation of affected cases. He also directed them to involve local public representatives for effective surveillance and monitoring of positive cases.
As per the latest COVID SOPs issued by Ladakh Disaster Management Authority, social/ religious/ academic/ entertainment/educational/ cultural/sports/religious gathering/political functions and other congregations would be permitted outside the containment zones up to a ceiling of 25 persons only or 50% of the hall capacity, whichever is less in case of indoor spaces. Such gatherings would be permitted up to a ceiling of 50 persons or 50% of the capacity of the space with social distancing,
whichever is less in case of open space, only with the prior permission of office the District Magistrate, Leh. Wearing face masks, maintaining social distancing, provision of thermal scanning and use of hand wash or
sanitiser would be mandatory. These gatherings shall also be monitored and in case of violation of physical distancing and mask usage norms,
necessary enforcement and penal actions will be taken by magistrates/police and special Covid squads. As a matter
of abundant caution, no mass gatherings will be allowed in areas identified as containment zones. Marriages (attended by up to 50 persons) and funerals/last rites (attended by up to 20 persons) will be allowed outside the containment zone with the prior permission of the office of District Magistrate Leh.
Chairman DDMA Leh further impressed upon the officials to ensure that these guidelines issued by the State Disaster Management Authority (SDMA) are strictly enforced in the district. He added that all protocols issued by State Executive Committee (SEC), Ladakh Disaster Management Authority (LDMA) should be strictly adhered to.
Chairman DDMA Leh appeals to the public to always follow Covid Appropriate Behaviour.
State Surveillance officer, District Surveillance officer, Leh, Assistant Director, Information, all magistrates, other officials from the Health Department attended the meeting.