Chairman DDMA Leh reviews progress of Covid-19 vaccination drive in district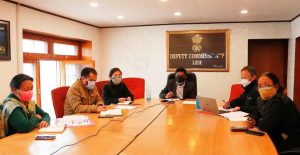 Leh, June 04: Chairman, DDMA, Leh, Shrikant Suse, convened a meeting to review the progress of the Covid-19 vaccination drive in the district. Leh district has achieved 100% in administering the first dose to healthcare workers, frontline workers, 60+, 45-59 with comorbidities and 45-59 age groups. Similarly, it has administered approximately 47.5% of the second dose to the same population. Meanwhile, 98.67% between 18-44 have received the first jab of the Covid-19 vaccine.
Chairman, DDMA, Leh, directed the concerned officials to ensure that all the elderly and differently-abled people receive vaccination in the district. Representatives of the People's Action Group for Inclusion and Rights (PAGIR) and District Social Welfare Officer (DSWO), Leh, informed the Chairman that the majority in the specified category has received the Covid-19 vaccine. They would submit the re-verified vaccination status of the beneficiaries to the Administration.
Chairman, DDMA Leh, emphasised the periodic sampling of labourers and shopkeepers to check the spread of infection. He stressed that negative RT PCR reports of labourers would be mandatory for their movement. The officials also deliberated on vaccinating the labourers from Nepal after the vaccination of the local population is over.
Earlier, the Chief Medical Officer, Leh, Dr Motup Dorjay, shared the status of the Covid-19 vaccination drive in the district. He also apprised the Chairman, DDMA Leh, of the ongoing testing of labourers, government employees and the contact tracing mechanisms.
Block Medical Officer (BMO), Khaltsi apprised that the vaccination process in the sub-division Khalsti is almost complete barring the remote areas of Singay-Lalok and Skurbuchan, which is under containment.
Incharge Covid Command Centre, Leh; Assistant Commissioner Revenue, Leh; Chief Medical Officer, Leh; District Social Welfare Officer, Leh; BMO, Khaltsi; a representative from PAGIR and other concerned officials attended the meeting