Chairman DDMA Leh reviews current Covid-19 situation in Leh Directs strict enforcement of Covid-19 protocols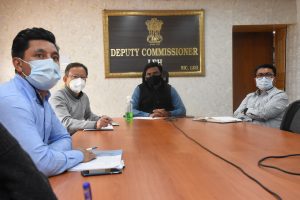 Leh, Sept 23: Chairman, District Disaster Management Authority (DDMA), Leh, Shrikant Suse convened a meeting to take stock of the current situation of Covid-19 in the Leh district. He also reviewed the Covid-19 vaccination status.
At the outset, the State Surveillance Officer (SSO and CMO Leh apprised the Chairman of the present situation of Covid-19 in the district along with the vaccination status.
Chairman DDMA Leh directed the Additional Deputy Magistrate (ADM), Leh, and all SDM to ensure that the directions issued by the DDMA are strictly followed by all, including the agencies and organizations such as BRO/ GREF.
He also directed the Deputy Superintendent of Police (Dy SP), Leh to ensure that Covid Appropriate Behavior (CAB) is strictly enforced at all public places. He also directed to reactivate the Covid-19 enforcement squad comprising of civil and police officials to check the violations of Covid-19 protocols.
ADM Leh; SSO, IDSP; Chief Medical Officer, Leh; Dy SP, Leh and representative from Covid Command Centre, Leh attended the meeting.