Chairman DDMA Leh reviews COVID-19 mgmt in Leh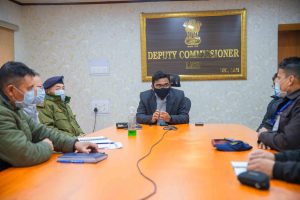 Leh, Dec 1: Chairman, DDMA Leh, Shrikant Balasaheb Suse, today chaired a meeting to review the status and preparedness of Covid-19 management in the district.
Chairman DDMA Leh and the concerned officials discussed the state of preparedness of Covid Care Centres, quarantine centres, medical equipment, medicines, manpower, etc due to the surge in Covid-19 positive cases in Ladakh. Chairman DDMA Leh impressed upon the officers of the Health Department to ensure effective preparedness for the inbound passengers from outside Ladakh.
Keeping in view the influx in the arrival of tourists from Covid-affected areas and given the emergence of the highly mutated Covid-19 variant omicron, Shrikant Suse directed the concerned officers to enhance field surveillance, increase manpower and streamline the testing process at the KBR Airport. He also stressed the need to strictly enforce adherence to Covid appropriate behaviour, including wearing masks and maintaining social distance.
Chairman DDMA Leh directed the concerned officials that the existing SOPs should be strictly followed and enforced.
Additional DM/CEO, DDMA, Leh; Additional Superintendent of Police, Leh; Chief Medical Officer, Leh; Deputy Commandant /Chief Airport Security Officer, CISF, KBR Airport, Leh; Assistant General Manager/Airport Technical Manager/ AAI, Leh; In-charge, District Covid-19 Surveillance (District Sheep Husbandry Officer, Leh); and officers deployed at KBR Airport Leh for COVID management also attended the meeting.