Chairman DDMA Leh checks availability of Covid-19 medicine in Leh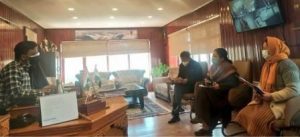 Leh, April 24: Chairman, DDMA/Deputy Commissioner, Leh, Shrikant Suse, today convened a meeting to check the availability of Covid-19 medicines and took stock of other medical equipment in Leh district.
Chief Medical Officer (CMO), Leh and Medical Superintendent, SNM Hospital, Leh, apprised DC Leh about the availability of various essential drugs used for the treatment of Covid-19, including Remdesivir injection, PPE kits and RT-CPR testing materials. CMO Leh informed that supply order has been placed to procure sufficient quantity.
DC Leh Shrikant Suse directed the concerned officials to place the order for all essential drugs in sufficient quantity so that the district doesn't face difficulty in Covid-19 patient management. He also directed the CMO to station a designated officer with the vendors to expedite the procurement process. He also exhorted the concerned officials to procure all essential drugs.
Chief Medical Officer, Leh; Medical Superintendent, SNM Hospital, Leh; Drugs Controller, Leh; President, Chemist Association, Leh, attended the meeting