Chairman DDMA Leh announces gradual unlock in Leh district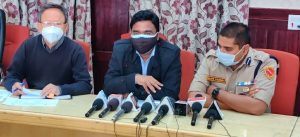 Leh, June 05: Chairman, DDMA, Leh, Shrikant Suse, announced new SOPs/guidelines with certain relaxations to start gradual unlocking from June 7 till 14. The decision was taken after extensive deliberation and a detailed assessment of the Covid-19 situation in the district.
Chairman, DDMA Leh, shared the roster prepared by the District Administration to allow commercial activities in the new SOPs. Groceries/general stores, fruits/vegetables/milk products/meat/ chicken shops, nanwai, bakeries and e-commerce are allowed to open from Monday to Friday from 7:00 AM to 01:00 PM according to the new SOPs/guidelines.
Hardware shops and establishments dealing with construction materials along with vehicles needed for their transportation would be allowed to open on Monday, Wednesday and Friday from 05:00 AM to 09:00 AM. Readymade garments/ shoe, tailoring, home furnishing items/ furniture shops would be allowed to open on Monday, Tuesday and Wednesday from 01:00 PM to 07:00 PM. Similarly, workshop/ service, tyre stations, spare part repair, automobile showrooms/ shops, travel and tour/ ticket booking agencies would also be allowed to open on Monday, Tuesday and Wednesday from 01:00 PM to 07:00 PM.
Mobile repair, electronic appliances, IT and computer shops, Dish/TV recharge shops/kiosks would be allowed to open on Thursday and Friday from 01:00 PM to 07:00 PM along with printing press, photo-state, stationeries/book/sports/toys/gift shops, cosmetics, souvenir/art shops/ jewellery and goldsmiths. The other left out shops/ business establishments would also be allowed to open on these days.
Chairman, DDMA Leh, informed that only home delivery service would be allowed for restaurants from 08:00 AM to 08:00 PM on weekdays. Hotels would be allowed to operate dine-in services with a 30% seating capacity for in-house guests.
Speaking on non-essential vehicular movement, the Chairman, DDMA Leh, informed that the District Administration would begin an odd/even system with 50 % seating capacity. Vehicles with registration number ending with the odd number (1,3,5,7,9) would be allowed on Monday, Wednesday and Friday, whereas vehicles with even numbers (0,2,4,6,8) would be allowed on Tuesday and Thursday. Government employees would be allowed to move as per the previous orders.
Chairman, DDMA Leh, shared that public transport, private offices, salon/barber shops/ beauty parlours/spa/gyms would continue to remain closed. The District Administration would allow developmental activities and construction work where labourers reside on the worksite while following Covid SOPs.
Meanwhile, medical services, chemists, diagnostic centres, medical and clinical establishments would be allowed to remain open 24×7 all days. Similarly, armed/ paramilitaries forces, telecom services, print and electronic media, fuel/ LPG, beneficiaries of vaccination and sampling, covid duty and airport duty staffs would be allowed movements on all days.
Chairman, DDMA Leh, impressed that weekend curfew and night curfew would remain in force in the district as earlier. He also emphasised that these relaxations would not be extended nor applicable in areas notified as containment zone.
Chairman, DDMA Leh, appealed to the people to cooperate with the District Administration in enforcing these new SOPs effectively. He also requested the public to rely on authentic sources for information and not to believe in rumours. He warned that strict action would be taken against those found guilty of spreading rumours.