Major attraction of Nubra is the highest motorable road Khardongla pass (18,380ft.) majestic peaks and glaciers enchanting valleys and villages. Diskit and Samstanling Gonpa, Panamik hot spring, double humped camel safari, river rafting, trekking and Sunbathe in the sand dunes at Hunder are also a great source of attraction for the touristsThis valley is popularly known as Ldumra or the valley of orchard/flowers. It is situated in the North of Ladakh, between Karakoram and Ladakh ranges of Himalayas. Nubra lies at average altitude about 10,000 feet above sea level. The climate, of the areas being soft, soil is much fertile and the vegetation of the area is comparatively thicker than those of the other areas of Ladakh. Shrubs, bushes and trees grow in abundance wherever there is any source of water. Due to this reason Nubra has acquired its right name- Ldumra. Shayok and Siachan rivers forms fairly large drain in Nubra. Nubra is a broad valley with lofty mountains on its all sides. Valley assumes greater attractions at the site where both the rivers meet. The formation of Central part of Nubra also takes place there. Diskit is the Sub-Division HQ. of Nubra. Diskit Gonpa is also situated at a height of about 200 mtrs. Above the village, on the spur of rocky mountain and at the most commanding point having clear view of the entire central part of Nubra. Samstanling Gonpa is situated on the North, facing Diskit Gonpa. This Gonpa is equally important and recreationally it assumes greater importance for being situated at a commanding scenic view point at the foot hills of Karakoram ranges up above Tegar and Sumoor villages, amidst plenty of water and high vegetation. Major village via Kardong, Khalsar, Tirit, Sumoor, Tegar Pinchemik, Tirisha and Panamik all fall along the traditional silk route. The caravans travelling Central Asia and Kashmir through Nubra valley used to stay at those villages. Panamik was the most important place for haltage of Caravan. It served as last major village where the Caravans landed the facility of feed back, before they negotiate Saseer and Karakoram passes towards Central Asia. The famous hot spring of Panamik also served them as a source for bath, drinking water and therapeutic purpose. Panamik has still got charms and potentiality to serve as a host to travellers. All areas around it including Iantsa Gonpa and Murgi waterfall across it combined with scenic view strengthens its beauty and hospitality.
Contact Details
Address: Nubra, Leh
Location: Map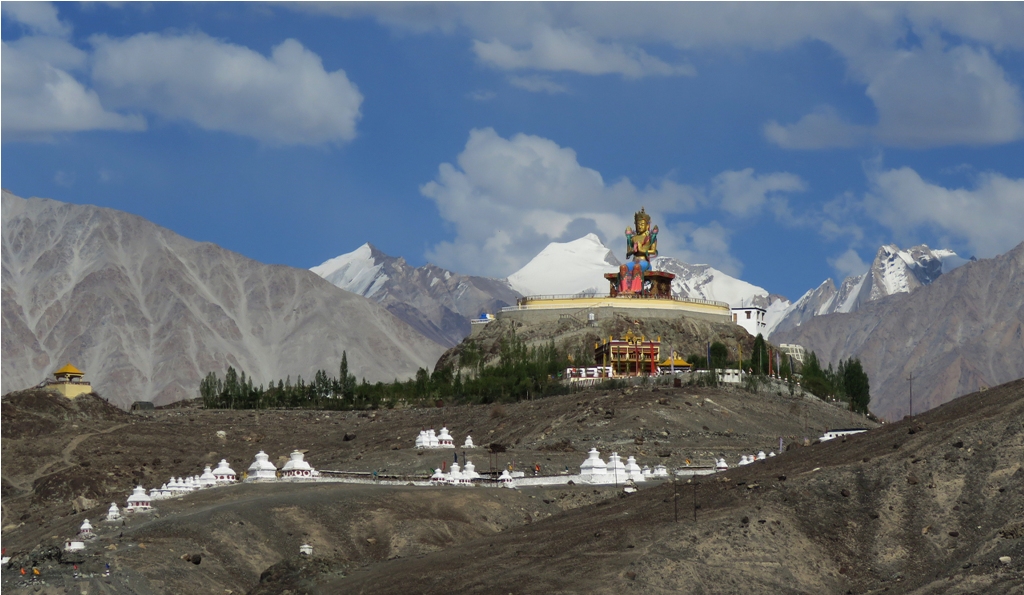 How to Reach
By Air
Nearest airport is Kushok Bakula Rinpoche Airport, Leh
By Train
Nearest railway station is Jammu Tawi which is 705 km from Leh town.
By Road
Nubra Valley is at a distance of 95 km from Leh town.