CEC Tashi Gyalson reviews arrangements for the upcoming Dance and Music Festival in Leh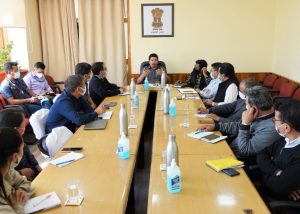 Leh, Sep 22: A meeting was held today under the chairmanship of the Chairman/CEC, LAHDC Leh, Advocate Tashi Gyalson, to discuss and review arrangements for the upcoming Dance and Music Festival to be conducted in Leh in the month of October.
Deputy Commisioner Leh, ADC Leh, CPO Leh, AD Information Leh, AD Tourism Leh, IAO/CCF LAHDC Leh, EO MCL, SO Cultural Academy Leh, Executive Engineers of Constt., PDD & PHE Division Leh, and representatives from the organizing societies attended the meeting.
Representatives from the organizing societies apprised the Chairman of the objective and plans for the upcoming dance and music festival. They also informed the officials of the need for conducting such festival to encourage young local artists currently active in the field of dance and music. Officials from various departments also put forth their inputs and suggestions for a smooth and successful conduct of the festival in Leh.
CEC Tashi Gyalson stated that the Ladakhi youth need more such platforms to showcase their talents. He added that such platforms would also help discourage youths from engaging in unlawful activities and nurture their talents with the help of experts. He directed all the concerned district officers/officials to immediately initiate preparations for the Dance and Music Festival.