CEC reviews public health preparedness for COVID-19 in Leh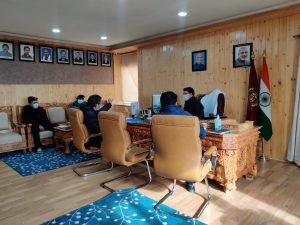 Leh, Jan 24: The Chairman/CEC, LAHDC Leh, Adv. Tashi Gyalson (the Executive Councillor for Health) chaired a comprehensive meeting to review the public health preparedness for COVID-19 in Leh district today.
Director Health/CMO Leh briefed the Chairman with the current scenario of Covid-19 and the rising number of positive cases in the district. He also informed the Chairman that the spike in positive cases is a major concern in Leh and sought assistance from the Hill Council and the District Administration for containing the spread of the disease in the district.
The meeting also discussed in detail a multi-pronged strategy to defeat the new variant of the deadly virus especially among the susceptible population who haven't been inoculated till now. The officials also deliberated on reopening of imparting Coaching/Tuition on-site with strict adherence to Covid Protocols in the district.
Furthermore, CEC Tashi Gyalson advised DC Leh to enforce all measures to suppress the spread of the virus. He also instructed law enforcement agencies to enhance surveillance and ensure strict implementation of Covid SOPs and Covid Appropriate Behavior (CAB) among the general public in the district.
The meeting was attended by DC/CEO LAHDC Leh, Director Health/Chief Medical Officer Leh, ADC Leh, Tehsildar Leh, and Dy. S.P. HQ. Leh.