CEC reviews progress of Ladakh Greenhouse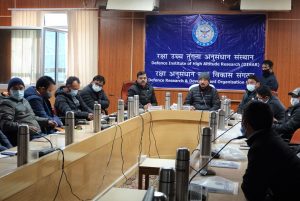 Leh, 27 Dec: The Chairman/CEC, LAHDC, Adv. Tashi Gyalson today chaired a debriefing meeting to review the progress of Ladakh Greenhouse followed by a field visit to Ladakh greenhouse at DIHAR.
The DIHAR officials apprised the CEC, Dy Chairman, ECs and the Councilors of LAHDC Leh of the benefits and various technologies used in the Ladakh greenhouse. The greenhouse is an initiative to achieve the goals of self-sufficiency and a carbon-neutral Ladakh.
Calling DIHAR a blessing for Ladakh for its efforts in making Ladakh self-sufficient and carbon neutral, CEC Gyalson expressed gratitude for their efforts in coming up with greenhouses suitable to the environment of Ladakh. He inquired about the present status of the Ladakh greenhouses and their establishment in every village of Leh district.
CEC shared that UT Ladakh should upscale the project of greenhouses in Ladakh and instructed the concerned departments to address such greenhouses as Ladakh Green House in their communications. He urged the concerned department to promote greenhouses as Ladakh Greenhouse. He instructed the concerned officials to initiate the project in villages with extreme climatic conditions and gradually cover all the villages of Leh district. CEC Leh added that these greenhouses would help cultivate nutritious and fresh vegetables in extreme climatic conditions. He further instructed the concerned department for the early completion of 850 greenhouses in Leh district at the cost of Rs 25 crores.
CEC Gyalson urged the councillors to raise awareness among villagers in their constituencies to avail the benefit of this initiative.
He also appreciated the One District One Product (ODOP) initiative and the successful export of apples from Leh to other parts of India. He expressed hope to see the successful export of sea buckthorn as well.
Deputy Chairman, LAHDC, appreciated the efforts of DIHAR and requested councillors of respective constituencies to share their inputs with DIHAR.
EC Animal/Sheep suggested awareness on Ladakh green houses and its allied technologies to every village in Leh district.
EC agriculture informed that the Department is spreading awareness programme on greenhouses to farmers. He added that a region-specific model would soon be initiated in the Leh district.
EC Minority also suggested setting up a biocontrol lab for disease control in agriculture and hoped for accomplishing mission organic in Ladakh.
Speaking on the occasion, Director DIHAR stressed the need for harnessing solar energy to achieve carbon neutrality. He termed Ladakh Greenhouse as 'farmer-friendly' and a 'lifeline' of Leh in the winter.
Deputy Chairman, Tsering Angchuk; EC agriculture, Stanzin Chosphel; EC animal/Sheep, Tashi Namgyal Yakzee, EC Minorities, Ghulam Mehdi, councillors of respective constituencies, Director DIHAR, Director Horticulture, Chief Horticulture Officer, Chief Agriculture Officer and other district officials were present in the meeting.