CEC reviews preparation for science week festival to be held in Leh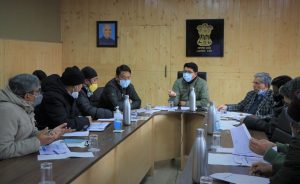 Leh, Feb 09: The Chairman/CEC, LAHDC Leh, Adv. Tashi Gyalson convened a meeting today to discuss the upcoming Science week festival which will be held in Leh. The Ministry of Culture & the office of the PSA, Govt of India under the aegis of 'Azadi ka Amrit Mahotsav' have decided to celebrate the week of 22nd to 28th February 2022 as the glorious week dedicated to science and technology – Vigyan Sarvatre Pujyate (science is revered all over).
Dy Chairman, LAHDC Leh, Tsering Angchuk informed the meeting regarding the conduct of the mega fest especially in Leh which is among one of the 75 locations across India celebrating the Science week festival. He further added that regular thematic programs will be exhibited at various centres in Leh for larger exposure to the masses.
VC UoL, Dr SK Mehta suggested an on-site visit to different research institutes in the district on a rotational basis keeping in view the COVID-19 guidelines. Meanwhile, the Principal, EJM College Leh, apprised the Chairman about the details of the programme and other necessary information.
CEC Gyalson appreciated all the concerns and suggestions added by the officials. He further advised all the concerned officials of the organising committee to ensure active participation from the masses especially students. He also added the need for having productive sessions on major issues including natural ecology and climate change among the participants during the festival in Leh.
The meeting was attended by Dy Chairman, LAHDC Leh, Tsering Angchuk; Vice-Chancellor, University of Ladakh, Dr. Surinder Kumar Mehta; DC Leh, Shrikant Suse; Associate Director, SKUAST, Stakna; Director, National Institute of Sowa Rigpa, Leh; Scientist ISRO/Founder Ladakh Science Foundation, Scientist DIHAR, Leh, CEO Leh, Head of GB Pant National Institute for Himalayan Environment, Ladakh Regional Centre and other officials of various centres.