CEC reviews designs for various projects of Leh town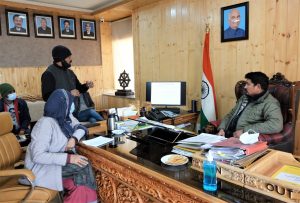 Leh, 08 Mar: The Chairman/CEC, LAHDC Leh, Adv. Tashi Gyalson chaired a meeting to review the inception report of the sewerage system of the left-out area of the Leh town. Where the concerned agency submitted the design and proposed the area they are covering along with its challenges.
CEC Tashi Gyalson directed the officials to include all stakeholders and authorities within the project for its coverage.
Similarly, CEC Gyalson also chaired another meeting with the officials of Urban Local Bodies and Urban Engineering & Sustainability, RITES Ltd. where they discussed the feasibility assessment of integrated mass transit system and allied infrastructure projects in Leh.
CEC Tashi Gyalson instructed the concerned officials for the execution of plans to developed an Electric Vehicle transport system.
Director ULB Ladakh, Executive Officer, MC Leh, and representatives from consultant agencies attended the meeting.