CEC met with members of Taxi Union Leh Assures immediate investigation into recent manhandling case of a local cab driver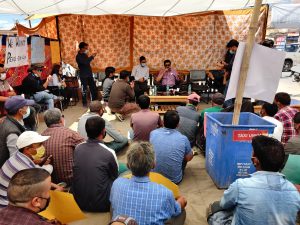 Leh, Sep 06: The Chairman/Chief Executive Councillor, LAHDC, Leh, Advocate Tashi Gyalson, visited the protest site of Taxi Union Leh where the transport stakeholders led by Taxi Union Leh is staging a protest against the manhandling of a local cab driver from Leh who was allegedly physically abused in Kargil recently.
CEC Tashi Gyalson interacted with the officials of Taxi Union Leh and the members, including local cab drivers of Leh.
Taking note of the concerns and issues raised by the Taxi Union Leh, CEC Gyalson assured full assistance from the Hill Council in providing justice to the transport fraternity of the region.
CEC Leh urged both the Taxi Unions to resolve the issues through dialogues between them. He stated that LAHDC Leh would take strict actions against those who try to disturb the peace and harmony in the society.