CEC Leh visits STP Leh to review sewage-related issues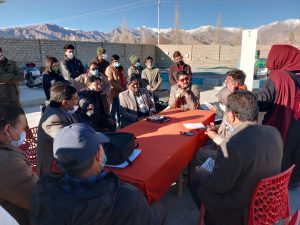 Leh, Nov 13: The Chairman/CEC, LAHDC Leh, Adv. Tashi Gyalson, today visited the Sewage Treatment Plant (STP) at Agling, Leh. He was accompanied by Commissioner Secretary, UT Ladakh; DC Leh, Councillor Upper Leh, Councillor Phyang, former CEC Leh, BDC Chairperson Leh, Director ULB, President MCL, SE PWD Leh, CAHO Leh, EO MCL, Xen PHE Leh, officials of NHIDCL and other district officials. Residents of Agling were also present during the visit.
The officials apprised CEC, LAHDC Leh of several issues about sewerage storage at the STP and the recent leakage of sewage at the site. Residents of Agling raised several issues in front of the officials and sought immediate action from the administration to resolve the issues.
Taking note of the issues, officials from the District Administration and UT Administration assured to resolve the issue at the earliest.