CEC Leh visits Igoo-Phey irrigation canal site at Spituk Farka Congratulates the I&FC team for successfully charging water till endpoint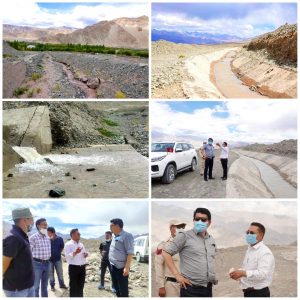 Leh, Aug 11: The Chairman/Chief Executive Councillor, LAHDC Leh, Advocate Tashi Gyalson, today visited the Igoo-Phey irrigation canal site at Spituk Farka. Executive Engineer, Irrigation and Flood Control (I&FC), Igoo-Phey Division, Tashi Tundup and other officials of I&FC accompanied CEC LAHDC to the site.
The Irrigation Canal was initiated in the year 1979 and completed in the year 2005. The overall distance covered by the Igoo-Phey Irrigation Canal is 43 km. However, it covers a distance of 16 km from its initial point, which is to Chuchot village, since the completion of the project.
But the I&FC Division team led by Executive Engineer, Tashi Tundup, has been able to charge water completely till its endpoint at Phey this year. This has helped to clear the doubts regarding the non-functionality of the said canal.
CEC Tashi Gyalson visited the irrigation canal and congratulated the entire Irrigation and Flood Control Division team led by XEN Tashi Tundup. He instructed the concerned officials to maintain the irrigation canal and stated that the water charged through the irrigation canal should benefit the entire belt covered by it. He also requested the people residing in the periphery of the irrigation canal to use the water judiciously and systematically for irrigation purposes.