CEC Leh visits Basgo, Ney villages Inaugurates Steel Girder Bridge at Thangkob, Basgo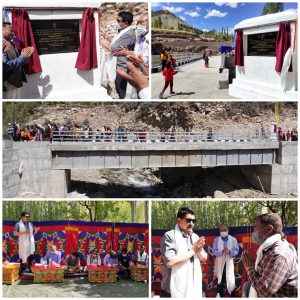 Leh, Sep 15: The Chairman/Chief Executive Councillor, LAHDC, Leh, Advocate Tashi Gyalson visited Basgo and Ney villages today. He was accompanied by Councillor Basgo, Tsering Nurboo, BDC Chairperson Nimoo, ACD Leh, Xen R&B Leh, and village representatives led by Sarpanches and Nambardars of Basgo and Ney villages.
Due to some official engagements during his visit to Basgo Constituency recently, CEC Tashi Gyalson had to re-schedule the tour to Ney village today. He interacted with the villagers and listened to their grievances especially the 4G telecommunication network coverage required at Lajing and Saphu areas of Ney village.
He also paid a visit to the 80 ft Gautam Buddha's Statue at Ney village and assesses the damage caused at the foundation walling in the basement and the circumambulation pathway in front of the statue. The caretaking committee/trust of the statue site apprised CEC Gyalson on the restructuring of the foundation walling and redesigning the circumambulation pathways with sustainable solutions.
Taking note of all the grievances and concerns, CEC Gyalson reassured all the villagers that the Hill Council will surely work on addressing their grievances and also assists in restructuring the foundation work of the damaged structure at the Buddha statue site.
CEC Tashi Gyalson also visited Zasa Thangkob mohalla of Basgo village and inaugurated a 20 Meter Span Steel Girder bridge crossing the Basgo stream (Nala). The locals extended their gratitude to the Hill Council and local administration for the early completion of the bridge and also expressed their gratitude to the concerned contractor for expediting the work and finishing the construction work on time. CEC Gyalson also listened to the grievances of the locals and assured to address their issues at the earliest possible.