CEC Leh visit Council Model School Sakti Inaugurates Hand Wash Facility at the school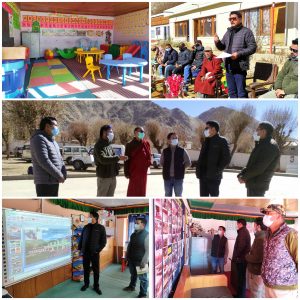 Leh, Nov 11: The Chairman/CEC, LAHDC Leh, Adv. Tashi Gyalson visited Govt. Middle School (Council Model School), Taknak Sakti today. He was accompanied by Councillor Sakti, SDM Kharu, Xen PDD and Xen PHE during the visit.
CEC Tashi Gyalson inaugurated a Hand-Wash facility at the school. The wash facility has been constructed by LEDeG with the support from Hansa Flex at the Council Model School Sakti. Executive Director LEDeG, Head Master, Council Model School, staff, students and parents attended the inauguration ceremony.
Speaking during the occasion, CEC Gyalson extended his gratitude to the team from LEDeG Ladakh and Hansa Flex for their assistance in getting the wash facility established at the school. He stated that LEDeG has been contributing tremendously towards sustainable development in Ladakh over the period time.
CEC Gyalson also visited the school campus and reviewed the developmental needs of the school. He stated that the staffs, students and parents of the school are role models to the rest of the govt. schools in Ladakh. He appreciated the overall effort from both the school administration and students as well as parents. He added that it is the prime responsibility to ensure quality education with good facilities to the students in govt. schools. He assured to address all the issues and demands raised before him at the earliest.
CEC Gyalson also visited Tagar, Sakti and took stock of the issues and demands raised by the residents. He assured his assistance in addressing their grievances.