CEC Leh reviews sustainable waste management in Leh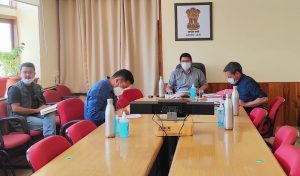 Leh, Aug 16: A meeting was conducted in the chairmanship of the Chairman/Chief Executive Councillor, LAHDC Leh, Advocate Tashi Gyalson with the Director Urban Local Bodies, Executive Officer, Municipal Committee Leh, and Several Eco Consultants who work in the field of Sustainable Waste Management.
Eco Consultant, Gurudatta Tendulkar, and Bharat Sreenivasa gave a presentation on clearing legacy waste at the Bomb Garh site in Leh. He highlighted the various measures, including reclamation of dumpsites, bio-mining of wastes and shifting of waste to Sanitary landfills, bioremediation, and biomining of legacy waste.
CEC Gyalson pointed out few concerns in front of the meeting and seeks intervention from the concerned officials to re-investigate the functioning of the Blackhole machine keeping in view the fragile eco-system and environment of Ladakh.