CEC Leh reviews sector-wise action plan for subsidy components of Leh district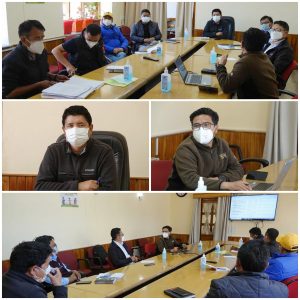 Introduces subsidy components for 10 new departments for 2021-22
Leh, June 08: To boost the promotion of Agriculture, Horticulture, Animal & Sheep, Handloom, Handicraft, Sports, etc., LAHDC Leh introduced a 25 crore rupees subsidy for Leh district under the subsidised plan for the year 2021-22 for the first time.
The Chairman/CEC, LAHDC Leh, Advocate Tashi Gyalson along with the Dy Chairman, Tsering Angchuk, Executive Councillor for RDD, Tashi Namgyal Yakzee, Executive Councillor for Horticulture, Ghulam Mehdi Ashoor, Executive Councillor for Agriculture, Stanzin Chosphel, had a detailed discussion and deliberations on the action plans and coverage of the subsidised components and its schemes for the year 2021-22 of LAHDC Leh.
LAHDC Leh has introduced huge subsidy components in various departments for the welfare of the people of Leh district, especially people living in remote regions engaged with agriculture, horticulture, ASH, sports, handicraft, handloom and other sectors. This year, LAHDC Leh has granted subsidy components for ten new departments. Provisions such as advanced training centres for skill development in various trades and predator-proof corral pens have been introduced in Leh district this year that would be provided to the concerned constituencies on a need basis.
For the first time, LAHDC Leh has introduced a 100 per cent subsidy in providing world-class equipment for Ice Hockey players at the block level of Leh district, and the same components would be kept in several other sports disciplines. CEC Gyalson stated that this would benefit the sports enthusiasts of Leh district left behind due to financial constraints in purchasing costly sports equipment.
CEC Gyalson also directed concerned officials to monitor and identify beneficiaries only in consultation with the Councillors of LAHDC Leh.