CEC Leh reviews non-plan budget of various departments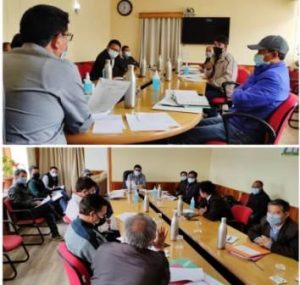 Leh, May 11: The Chairman/CEC, LAHDC Leh, Advocate Tashi Gyalson convened a meeting today at the Council Secretariat, Leh to discuss an overview of the Non-plan budget of Agriculture, Horticulture, Animal/Sheep Husbandry and Forest departments for the year 2020-2021 and 2021-22.
The meeting discussed in detail regarding revenue components of the non-plan budget especially the proposed action plan of subsidy and other parts of the budget for the year 2020-2021 and 2021-22 respectively.
The meeting was attended by Executive Councillor for Animal and Sheep Husbandry, Tashi Namgyal Yakzee, Executive Councillor for Horticulture and Forest, Ghulam Mehdi Ashoor, Executive Councillor for Agriculture, Stanzin Chosphel, Divisional Forest Officer Leh, Chief Agriculture Officer Leh, Chief Horticulture Officer Leh, Chief Animal Husbandry Officer Leh, District Sheep Husbandry Officer Leh, and Chief Controller of Finance, LAHDC Leh.