CEC Leh meets Agriculture Minister of Sikkim in Leh Discusses strengthening agriculture sector of Ladakh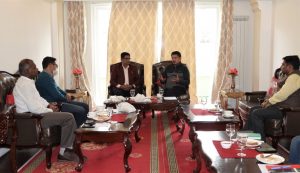 Leh Sep 23: The Chairman/CEC, LAHDC Leh, Adv. Tashi Gyalson today met with the Minister of Agriculture/Horticulture/ASH/IPR of the Government of Sikkim in Leh. Executive Councillor for Agriculture, LAHDC Leh, Stanzin Chosphel, accompanied CEC.
CEC Tashi Gyalson expressed his gratitude to the Minister of Agriculture, Sikkim, for his visit to Ladakh. He informed the Minister about Ladakh's initiative towards becoming organic and the vital role of the Government of Sikkim in guiding and providing technical assistance to Ladakh in the agricultural sector. He added that Ladakh would work on internal introspection in this sector. He also stated that LAHDC Leh and the UT Administration is working out several measures to encourage Ladakhi farmers to adopt organic and sustainable farming in the long run.
EC Agriculture Stanzin Chosphel also highlighted the immense contribution that Govt. of Sikkim is providing to Ladakh. He stated that the Hill Council has tied up with the Sikkim State Organic Certification Agency (SSOCA) in exploring sustainable measures to provide good branding and market to the Organic farmers of Ladakh. He added that the Department of Agriculture, Leh, is exploring several measures and planning sustainable solutions to overcome challenges during the transition period for the farmers.
Minister of Agriculture Sikkim, LN Sharma, said that the country needs to focus to uplift the Agricultural sector. He informed CEC Gyalson about the initial challenges faced by Govt of Sikkim in adopting organic farming. He also discussed sustainable solutions for overcoming those challenges with the help of incentives and farmer-friendly policies. He stressed the need for encouraging young entrepreneurs in the field of Agriculture and Horticulture in Ladakh.
Officials from Leh and Sikkim also shared their views and inputs on organic farming and the need for forming good policies for transforming Ladakh into a fully Organic state.
CEO Sikkim Organic Mission, Dr S Anbalagan, Mission Director MODI Ladakh, Tashi Tsetan, CEO SSOCA, Sudhir Giri, Addl. Director SSOCA, Binita Chhetri and Chief Animal Husbandry Officer Leh, Dr Mohd Iqbal, attended the meeting.