CEC Leh lays foundation stone for construction of double lane motorable bridges at Palam and Thiksey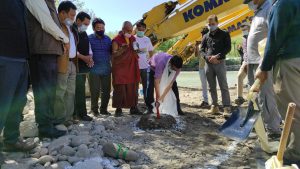 Leh, Aug 17: In yet another historic move, the Chairman/Chief Executive Councillor, LAHDC Leh, Advocate Tashi Gyalson laid the foundation stone for the construction of 60-meter span double motorable bridges at Agling which connects Palam village and Thiksey connecting Chuchot village.
CEC Tashi Gyalson termed this day historic and congratulated the people of Palam, Stok, Thiksey, Ranbirpur, and Chuchot for getting their long-pending demand fulfilled by the construction of bridges at the said sites. He highlighted that these bridges will not only help the people for the commute but will surely contribute to boosting the economy of the people residing in these areas through Tourism and various other aspects. He stated that these kinds of projects were overlooked in the past due to financial constraints but now since Ladakh became a Union Territory, we are able to meet up big projects like this quite easily.
Commissioner Secretary, PWD, Ajeet Kumar Sahu; Former CEC LAHDC Leh, Gyal P Wangyal, Councillor Thiksey, Stanzin Chosfail; Chairperson BDC Leh, Dr. Skalzang Dorjey; Chairperson BDC Thiksey, Tsewang Paldan; Chairperson BDC Chuchot, Sayeeda Bano; Sarpanches of Thiksey/Palam/Stok/Farka/Chuchot; Nambardars of Thiksey/Palam/Chuchot; Chief Engineer PWD; DSE PWD Leh; Xen Construction and Officials of CPWD were present during the foundation laying ceremony at Palam and Thiksey respectively.