CEC Leh inaugurates Science festival in Leh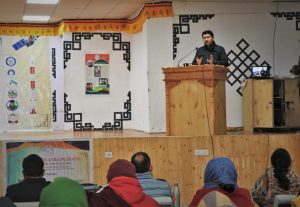 Leh, Feb 22: The Chairman/CEC, LAHDC Leh, Adv. Tashi Gyalson inaugurated the week-long Science festival at Leh, commencing from Feb 22 to Feb 28. The Ministry of Culture & the Office of the Principal Scientific Advisor (PSA), GoI, under the aegis of Azadi ka Amrit Mahotsav, have celebrating the week as the glorious week dedicated to science and technology – Vigyan Sarvatre Pujyate (science is revered all over).
Deputy Chairman, LAHDC Leh, Tsering Angchuk;Member of Parliament, Ladakh, Jamyang Tsering Namgyal; Executive Councillor, Agriculture, Stanzin Chosphel; Executive Councillor, Minority Affairs, Ghulam Mehdi Ashoor; Executive Councillor, RDD, Tashi Namgyal Yakzee; Vice-Chancellor, University of Ladakh; Councillors; DC Leh; Director, National Institute of Sowa Rigpa; Director, GB Panth National Institute; Director, University of Ladakh, Leh campus; Principal, EJM College; Scientists; Assistant Professors and other officials were present at the inaugural ceremony.
Dy Chairman, LAHDC Leh, Tsering Angchuk, in his welcome address, highlighted the objectives of the Science Festival and spoke about the legacy of scientific knowledge in making India self-reliant. He informed that various schools and institutes are engaged in the festival for the maximum learning of the learners.
Vice-Chancellor, University of Ladakh, Dr SK Mehta spoke about the importance of science in today's world. He emphasized on preserving the vast traditional knowledge system of Ladakh through science and its innovations. VC Mehta shared the various initiatives taken by the University of Ladakh for the advancement of science in Ladakh. He encouraged the students of Ladakh to participate in scientific knowledge and research.
Guest of honour for the occasion, Member of Parliament, Ladakh, Jamyang Tsering Namgyal congratulated the organizing committee and the institutes for raising the scientific temper of Ladakh. He emphasized on popularizing science among the people of Ladakh and hoped that science would bring peace and prosperity to Ladakh.
CEC, LAHDC Leh, Adv. Tashi Gyalson as the Chief Guest expressed gratitude to Prime Minister, Narendra Modi for giving Ladakh a new identity as a Union Territory, with this Ladakh is proudly participating along with other states in the science festival with its new identity. He exhorted the need of sustainable development in Ladakh, supported by science and technology, given the global warming and environmental issues. He also assured of the Councils support for innovations in building a new Ladakh based on sustainable development.