CEC Leh inaugurates first MRI Unit at SNM Hospital Leh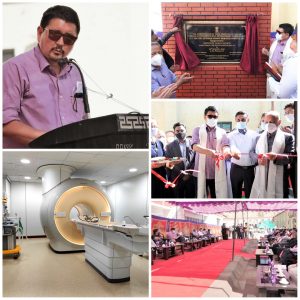 Leh, Aug 24: The Chairman/Chief Executive Councillor, LAHDC, Leh, Advocate Tashi Gyalson, today inaugurated the first ever 1.5 Tesla MRI (Magnetic Resonance Imaging) machine installed at the MRI Centre at SNM Hospital Leh.
The machine, costing Rs 12.78 crores, has been donated by the Airport Authority of India (AAI) under one of their CSR initiatives in Ladakh.
CEC Tashi Gyalson congratulated the people of Ladakh for having the first Civil advanced MRI Machine at the SNM Hospital Leh. He extended his gratitude to the AAI for their noble support in establishing the Machine in Leh Ladakh. He also extended his gratitude to the former CECs of Leh, Jamyang Tsering Namgyal and Gyal P Wangyal, the UT and District Administration for their timely contributions in initiating and completing the project due to the need for establishing such an advanced machine in Ladakh at the earliest.
CEC Gyalson highlighted the importance of having such crucial medical equipment in Ladakh and stated that the MRI machine would solve the hardships faced by Ladakhis. He also thanked the medical fraternity for their tireless effort in fighting against the Covid-19 pandemic. He assured that the Hill Council, in close coordination with the District and UT Administration, would strive to provide better facilities to the iconic SNM Hospital at the earliest.
Principal Secretary, Dr Pawan Kotwal, stated that the newly established MRI machine would enhance the diagnostic capabilities of the hospital and help local patients avail of such facilities at their doorstep. He also appreciated the contribution of the medical fraternity in controlling the spread of the coronavirus in UT Ladakh.
DC Leh, Shrikant Suse and Airport Director Leh, Malkeet Singh also addressed the gathering and shared their valuable words on the importance of having the much-needed MRI machine facility in Ladakh.
Executive Councillor for RDD, LAHDC Leh, Tashi Namgyal Yakzee, Former CEC Leh, Gyal P Wangyal, BDC Leh, Dr Skalzang Dorjey, Director Health, ADC Leh, MD NHM, CPO Leh, CMO Leh, Xen Construction Division, Officials of Philips Company and the medical staffs of SNM Hospital attended the inaugural function at SNM Hospital Leh.