CEC Leh convenes meeting to discuss traffic regulation issues in district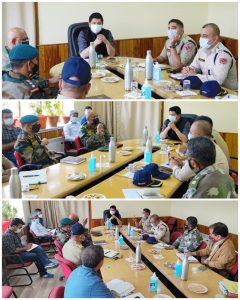 Leh, July 08: The Chairman/Chief Executive Councillor, LAHDC, Leh, Advocate Tashi Gyalson convened a meeting today with the Police, Army, and Border Roads Organization (BRO) officials to discuss traffic issues in the district.
SP Traffic, M Giri, apprised the officials of the traffic congestion problems in Leh town due to the sudden influx of tourists owing to the increasing number of private vehicular movement and the movement of army heavy vehicles within the periphery of the town area during daytime. He stated that Traffic Police Leh is facing several issues to regulate the usual traffic in the city during peak hours. They also sought assistance from the concerned officials present during the meeting to cooperate in easing the traffic scenario in the town.
As discussed and decided in various meetings earlier this year, CEC Leh reviewed the status of the proposal of several new bypasses to be created to decongest the traffic in Leh to divert heavy vehicles, including army convoys from the town through separate routes.
CEC Leh also sought assistance from the BRO officials to widen the remaining stretch of road starting from SBI Choglamsar to Jivetsal-Shey road at the Leh-Manali National Highway. He also directed ACR Leh and Tehsildar Leh to clear land encroachment issues, especially at the Choglamsar market area and Choglamsar Zampa area. CEC Leh suggested to SSP Leh and the SP Traffic to initiate a temporary parking facility for shopkeepers of the Choglamsar Zampa area at the parking space of Jivetsal Choglamsar as discussed earlier with consent from the concerned stakeholders. He added that this would help in decongesting traffic at the Choglamsar Zampa market area for the time being until permanent measures are in place.
CEC Leh requested all the concerned officials present during the meeting to cooperate with the Traffic Police, Leh, to establish the new traffic regulatory measures in the district.
Sr. Superintendent of Police Leh, Rajiv Pandey; SP Traffic MR Giri, RTO Ladakh Tsering Paldan, Station Commander, HQ 14 Corps, Brig. Arun CG, VSM; Adm. Comdt HQ 14 Corps, Col Saurabh Pandey; 16 TF/Vijayak EE(C) PK Prason, 12C 753 TL Lt. Col. A. Pande, ACR Leh, Shabir Hussain, EO, MC Leh Stanzin Rabgais and Tehsildar Leh, Attah Ullah attended the meeting.