CEC Leh convenes meeting to discuss electricity issues in Rong valley of Changthang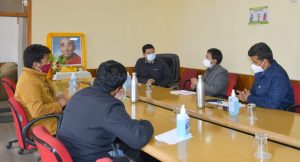 Leh, May 19: The Chairman/CEC, LAHDC Leh, Advocate Tashi Gyalson convened a meeting today at the Council Secretariat, Leh with the department of PDD to discuss electricity issues faced by the people of Rong valley in the Changthang region of Leh district.
Councillor Kungyam informed the meeting about issues of electricity in Rong valley which includes the need for replacement of feeders, insulators, disks and also the requirement of more manpower (lineman) in handling village level electricity issues in the region.
CEC Gyalson directed officials of PDD Leh to rectify the issues and address them with utmost priority for seamless availability of electricity in the region. He also assured to plan a long term solution for the issues of electricity in the region.
Taking note of the concerns, officials of PDD Leh assured to look into the matter and address the issues at the earliest.
The meeting was attended by Councillor Kungyam, Thinles Nurboo; BDC Rong, Jigmet Yountan; SE PDD Leh, Tsewang Paljor and Xen PDD Leh, Tundup Spalzang.