CEC Leh and MP Ladakh visits Khaltsi. Reviews medical facilities and Covid situation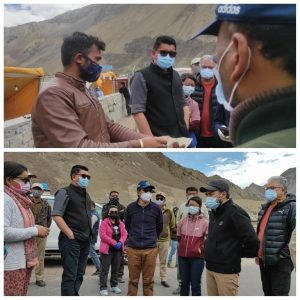 Leh, May 08: The Chairman/CEC, LAHDC Leh, Advocate Tashi Gyalson and MP Ladakh, Jamyang Tsering Namgyal visited Khaltsi today.
CEC Gyalson and MP JTN were accompanied by Councillor Khaltsi, Lobzang Sherap, BDC Chairperson of Khaltsi and Singay Lalok; SDM Khaltsi, BMO Khaltsi, AEE PWD Khaltsi, BVO Khaltsi, BO Sheep Khaltsi, TSO Khaltsi, Agriculture Extension Officer Khaltsi, Horticulture Development Officer Khaltsi, ZEO Khaltsi, Incharge Police Post Khaltsi, Forest Range officer Khaltsi and Sarpanch Khaltsi.
The officials visited CHC Khaltsi and flagged off a team of medical officials from CHC Khaltsi for Covid Vaccination drive to Singay Lalok region of Leh. BMO Khaltsi apprised CEC Gyalson and MP JTN of the concerns and requirement of more facilities especially a Digital X-Ray machine at CHC Khaltsi. He stated that such equipment will benefit the people of the sham region in the cases of immediate casualties. Health workers at CHC Khaltsi also raised their concerns to CEC Gyalson and MP JTN.
Taking note of the issues and demands, CEC Gyalson and MP JTN appreciated their services in the ongoing pandemic and assured to redress their issues at the earliest. They also requested them to continue their noble service to the people of Ladakh in fighting together against Coronavirus.
Inspecting the Covid Screening point at Khaltsi, CEC Gyalson and MP JTN resolved few issues on the spot in coordination with the concerned district officers and also assured to resolve all issues with utmost priority to the requirement of medical facilities. Both of them directed SDM Khaltsi and other officials to take strict actions against Covid protocol violators especially travellers.
Later, CEC Gyalson and MP JTN visited the Oxygen generating plant at Phyang and reviewed the status of Oxygen supply at the plant on their way back to Leh.