CEC inspects winter tuition centers at Minji, TSG block Assures redressal of grievances projected by BDC TSG block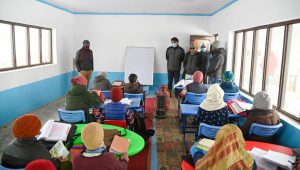 KARGIL, FEBRUARY 02, 2022: Chairman and Chief Executive Councilor (CEC), LAHDC, Kargil today inspected the functioning of winter tuition centers in government schools at Minji and TSG block.
Councilor, Baroo Minji Constituency, Sheikh Ghulam Mehdi, Councilor Tambis, Aga Syed Mehdi, Incharge Chief Education Officer (CEO), Muhammad Amin, Zonal Education Officer (ZEO) Sankoo, Haji Muhammad Ali Elmee besides other concerned officers accompanied the CEC during the visit.
During the visit, CEC inquired from students about the availability of teaching staff and facilities like heating system, availability of masks, sanitizers and cleanliness of classrooms.
Khan directed the teaching staff and students to follow COVID-19 SOPs issued by the district administration in letter and spirit to help contain the spread of COVID-19.
He assured that LAHDC Kargil is fully committed to providing quality education to the students in these tough times for which several measures have been taken.
CEC said steps have been taken by the council including successful conduct of community classes and distribution of tablets to students with preloaded contents with various learning applications.
Expressing satisfaction over the functioning of winter tuition classes at various schools, Khan said winter tuition will help impart education to students hailing from peripheries of the district.
He also appreciated the efforts of teaching staff and village committee members for their continuous support and cooperation in providing education to students.
During the visit, Coordinator Govt. Middle School Tambis, informed the CEC about the construction of an additional storey for the school in view of the increase in student enrolment.
Regarding the demand, Khan assured that in coming financial year, they will keep the budget for the construction of additional storey for the school.
CEC also visited Govt. Middle School Titichumik, Minji Gund, Tambis, Marpothang Trespone, Govt. Girls High School GM Pore and Govt. Higher Secondary School Trespone.
Meanwhile, representatives of TSG block including Block Development Chairperson (BDC) Haji Tahir, Panch and Sarpanch of the area projected grievances like tree compensation according to the new rate list, inclusion and compensation of trees beyond 8 feet width.
CEC assured that an immediate meeting will be held with DFO Kargil to discuss all the necessary grievances and also assured them a viable solution to the issues projected by them.