CEC inaugurates renovated Ladakhi Girls Hostel at Jammu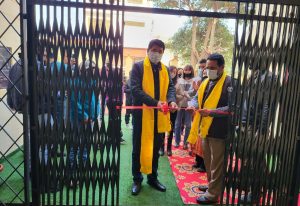 Leh, Dec 17: The Chairman/CEC, LAHDC Leh, Adv. Tashi Gyalson inaugurated the renovated and upgraded Girls hostel for Ladakhi students at Muthi town in Jammu today.
In a dedicated effort to provide good facilities to the students studying outside Ladakh, Hill Council Leh has facelifted and upgraded the existing Girls hostel in Jammu at an estimated cost of Rs 1 Crore for the better convenience of the Ladakhi students (girls) staying at the hostel.
Xen Construction, Nisar Ahmed; Hostel warden, Kunzang Angmo; President, Ladakh Student Association Jammu, Phunchok Tsering, and other concerned govt officials as well as Ladakhi students were present at the inaugural event.