CEC Gyalson tours Saspol constituency to review and assess public grievances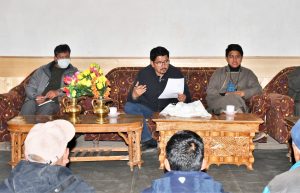 Leh, April 20: The Chairman/CEC, LAHDC Leh, Adv. Tashi Gyalson visited the villages of the Saspol constituency of Leh district to assess the developmental works and review public grievances. He was accompanied by Councillor Saspol, Smanla Dorjey Nurboo; BDC Chairperson Saspol, Chhering Phuntsog; District HoDs and sub-divisional officers.
The villages that he visited were Hemis Shukpachan, Dakpathang near Hemis Chu, Yangthang, Saspoche and Likir. The village representatives of Ule also met CEC with their grievances at a public meeting in Yangthang village. CEC Gyalson also visited the Likir monastery to review developmental requirements.
All the villagers joyously welcomed HCEC, as it was his first official tour to the area after taking the charge of the Chairman of the 6th LAHDC Leh.
CEC Gyalson visited the villages and sites to personally check all the pertaining issues and developmental work of the area. He welcomed all the villagers to raise their major issues of development in their respective villages. The major issues raised by the villagers included telecommunication connectivity with high-speed internet, redressal of drinking water issues, land allotment issues, completion of road connectivity with blacktopping, the up-gradation of the existing govt schools and health centres with adequate staff, construction/restoration of irrigation canals, renovations as well as the completion of Panchayat Garh and community halls.
During the tour, CEC Gyalson laid foundation stone for the construction of Dakpathang irrigation canal near Hemis-Chu in the presence of Councillor Saspol, Smanla Dorje Nurboo and former Member of Legislative Assembly (MLA), Tsering Samphel.
At Hemis Shukpachan, he laid the foundation stone for the construction of Zamindari Khul of Thangpochey Yokyour.
CEC Gyalson lauded the efforts of farmers and local entrepreneurs in developing and transforming agricultural activities in the region.
CEC Gyalson instructed the respective departmental officers and Executive Engineers to timely execute all the planned developmental works and address the grievances raised during his visit to different villages of the Saspol constituency.
The CEC also evaluated the present status of works under JJM (Jal Jeevan Mission) in all the villages and directed concerned Executive Engineers to expedite all the pending work under the scheme.
CEC Tashi Gyalson and Councillor of Saspol constituency, BDC Chairperson, and village representatives extended their gratitude to the departmental officers and officials for accompanying them during the tour and assessing the public grievances.