CEC Gyalson requests LG Ladakh to earmark 300 Cr special funds under SDP for Hill Council Leh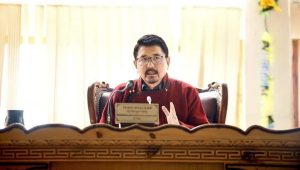 Leh, April 06: The two-day extensive General Council Meeting (GCM) of the 6th LAHDC Leh at the Council Secretariat concluded on April 5. The GCM deliberated on the draft CAPEX budget of Leh district for the financial year 2022-23 and on the last day, it approved the action plan of draft CAPEX budget with the unanimous approval of all the Councillors.
Presenting the concluding remarks on the GCM, Chairman/CEC, LAHDC Leh, Adv Tashi Gyalson underpinned an important observation from the two-day deliberation and discussion.
He said, "I request LG Ladakh, RK Mathur and UT Administration to earmark 300 crore special funds, specifically under SDP in addition to the total budget allocated for the Council."
CEC Gyalson exhorted that the budget of the Hill Council needs to be further increased to fulfil the aspirations and the genuine demands of the public as noticed from discussions in the GCM.
CEC Gyalson added that on behalf of the Council including the Executive Councillors, Councillors and the people of the Leh district, he strongly appeals for funds under SDP. He said that the plan formulations of the projects under SDP should be vetted from the Council before final approval by the UT Administration. CEC Gyalson highlighted the need to involve the Councillors during plan formulation under SDP for the district.
He also appreciated the commendable work of the District Administration headed by the DC/CEO, LAHDC Leh, Shrikant Suse for spending 91% of the total budget expenditure during the financial year 2021-22.