CEC Gyalson convenes meeting with head of religious organization Discusses measures to control the spread of COVID-19 in Leh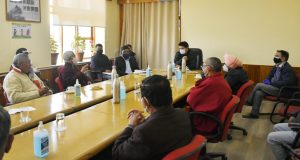 Leh, April 27: The Chairman/Chief Executive Councillor, LAHDC Leh, Advocate Tashi Gyalson convened a meeting today at the Council Secretariat, Leh with the head of religious organizations to discuss measures for controlling the spread of COVID-19 looking at the rising COVID cases in Leh district.
The meeting discussed strategies and agreed on dealing with the pandemic with contributions from both the District Administration and the concerned Civil Societies of the district. The Chairman informed the meeting of the measures taken by LAHDC and District Administration Leh to control the spread of the deadly virus and is also intensifying the processes simultaneously. The concerned Civil Societies assured their full cooperation to the District Administration and ensured that they will work on public awareness for strictly following Covid Appropriate Behavior. The concerned Civil Societies also requested the Chairman for an effective roll-out of Covid Vaccination for population above 18 years in Leh district starting from 1st of May, 2021.
CEC Gyalson and DC Shrikant assure their full assistance and informed the meeting that there will not be shortage of Vaccines in the district since UT Administration is already working proactively in procuring and rolling out Covid Vaccines for free of cost in the Union Territory of Ladakh. They also informed the meeting that the District Administration and the Health Department Leh is fully prepared with sufficient medical requirements such as the supply of Oxygen with functional Oxygen plants in the district. DC Leh informed that Ladakh Heart Foundation has been designated as a Dedicated COVID Hospital for the future if required.
The meeting was attended by DC/CEO LAHDC/Chairman DDMA Leh, Shrikant Suse; President, Ladakh Gonpa Association; Ven Shatup Chamba; President, Ladakh Buddhist Association/Former Member Parliament, Thupstan Chhewang; Vice President, Ladakh Buddhist Association/Former Cabinet Minister of J&K, Tsering Dorjey Lakroog; Vice President, Anjuman Moin-Ul-Islam, Dr. Noor Mohammad; Vice President, Anjuman Imamia, Haji Mehboob Ali; President Christian Community, Rev. Dechan Chamga; Gen. Secretary, LBA Women Wing, Kunzes Dolma; Chairman, Gurudwara Prabandhak Committee, Tejinder Singh Bakshi and Chairman, Hindu Trust, KM Kishore.