CEC flags-off Pulse Polio Immunization Programme from SNM Hospital Leh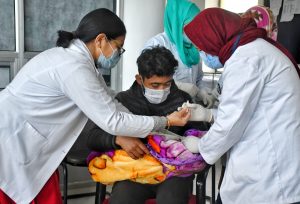 Leh, Feb 27: The Chairman/CEC, LAHDC Leh, Advocate Tashi Gyalson launched the Intensified Pulse Polio Immunisation (IPPI) programme at SNM Hospital, Leh this morning. He also flagged off mobile teams which were sent to various parts of the district to ensure no child is left without anti-polio drops.
"This kind of targeted vaccine initiatives have brought us far towards a polio-free world. Getting vaccinated is the best way to prevent polio as millions of children and families have suffered in the past time due to this disease. I appreciate the Health Department, Leh for carrying out the Immunisation programme across the district in a systematic way giving added focus to cover the children in snowbound areas. A healthy child leads to a healthy society and I urge all Ladakhi parents to bring their children of the targeted age group to the Anti Polio Booths and get them anti-polio drops for their secure future. I am hoping for a 100% coverage under this programme today." – CEC Tashi Gyalson
I/c CMO Leh, Dr Manzoor-Ul-Haq, Medical Superintendent, SNM Hospital, Dr Nurzin Angmo, District Immunization Officer, Dr Iqbal Ahmed, l/c BMO Leh, senior doctors and staffs of SNM Hospital Leh were present during the occasion.
Leh district has a target population of 9604 children of the age group of 0-5 years which includes 8873 locals and 731 non-locals. To ensure the fullest coverage of these children under the IPPI programme, the health department has set up 377 IPPI booths with the deployment of 78 Supervisors and 10 mobile teams. Also to have a close monitor for 100% achievement under the IPPI programme, 76 vehicles are engaged and have also airlifted Polio vaccines to snowbound areas of Singay Lalok region.